With a fast-paced lifestyle and the advent of e-commerce, hungry consumers have no shortage of purchasing options. Hundreds of goods are now available in the online market, and purchasing one requires only a click of the smartphone. Not only have options and convenience increased, but a customer's purchasing power has also increased as a result of equated monthly installments, or EMI, as it is commonly known.
Today, you can buy almost anything on EMI, including your own home, car, smartphones, appliances, and even a vacation. But can you get a solar system on EMI? The answer is yes. You can certainly purchase a solar system on EMI without using a credit card. Buying on EMI will not only increase your affordability and flexibility, but it will also be easy on your wallet.
Roop solar shaken their hand with ZestMoney to provide EMI options using Aadhar Card & PAN Card on the purchase of solar systems
Consumers can now easily buy a solar system for homes and businesses through equated monthly installments as they do other domestic gadgets, increasing their affordability. 
Roop Solar partners with ZestMoney to provide EMIs while buying solar products online and offline. Haryana-based start-up, a manufacturer of Monocrystalline solar panels and AC Module has partnered with Bengaluru-based digital lending startup ZestMoney to enable consumers to access finance while buying solar products online and offline through the platform. We will allow the size of the basket to be anywhere between Rs. 3000 to 4 lakh to enable a large customer base to access the product.
Benefits
ZestMoney is here to help!
1.5% interest EMI: Enjoy low cost, interest free EMI when you choose 3 – 18 months EMI plan
10% down payment: We ask for 10% down payment for you to complete your purchase.
3-18 months EMI plan: Choose your convenient repayment term from our wide range of EMI plans.
1% Processing fee: You have to pay 1% additional application processing charges. No strings attached
No pre-closure fee: You can close your EMI without having to pay any additional fees.
Consumer Guide
A simple guide to get started…
Step 1: Roop Solar Creates A Link For The Customer
Step 2: Customer Will Select EMI plan & Verify KYC details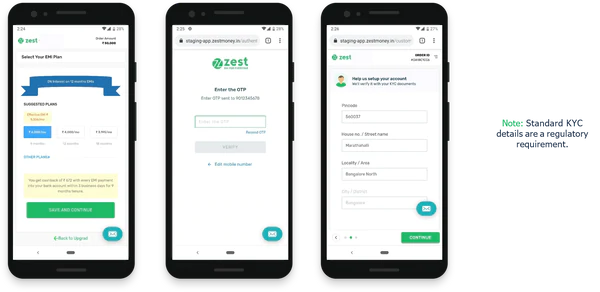 Note: Standard KYC details are a regulatory requirement.
Step 3: Customer Will Complete employment details
Note: PAN Card is a regulatory requirement. Please ensure that the PAN  number is entered correctly.
Step 4: Please verify your income details
Note: You can verify your income details by authenticating your bank account or by uploading your bank statement. For  Do's and Don'ts in uploading Bank Statements please refer to the below page in this PDF.
Step 5: Accept the loan agreement and complete your KYC documents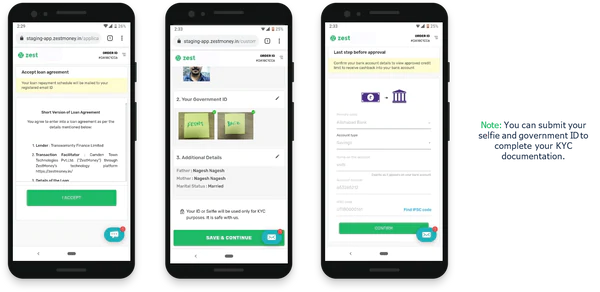 Note: You can submit your selfie and government ID to complete your KYC  documentation.
ZestMoney Team Will Verify The Loan Application
Note: If the customer uploads a PDF  bank statement or does it through Net banking. There will be an instant decision, which can be seen on the next slide.
Step 6: Loan Decision
Note: Once the loan is verified by our team, the customer needs to click on the link received in the message and make the down payment.
SMS Sent To Customer Post Verification
Note: Post that customer can setup repayment via NACH  as well where the user needs to download the NACH form,  sign it and upload it.
Step 7: Customer Pays The Down Payment & Set Up His Repayment
Conclusion
Buying a solar system involves a huge initial investment. Though there are many advantages of installing a solar system, its price still remains one of the biggest hurdles for investors thinking of going solar. Buying a solar system in installments will release some of the financial pressure and will act as an enabler for many potential users, who usually postpone investing in a solar power system to address their more critical financial needs.
For more details, feel free to call us: 9878953600 and email us: leads@roopsolar.com. An interested solar consumer can find a Roop solar partner's shop from here in your city.